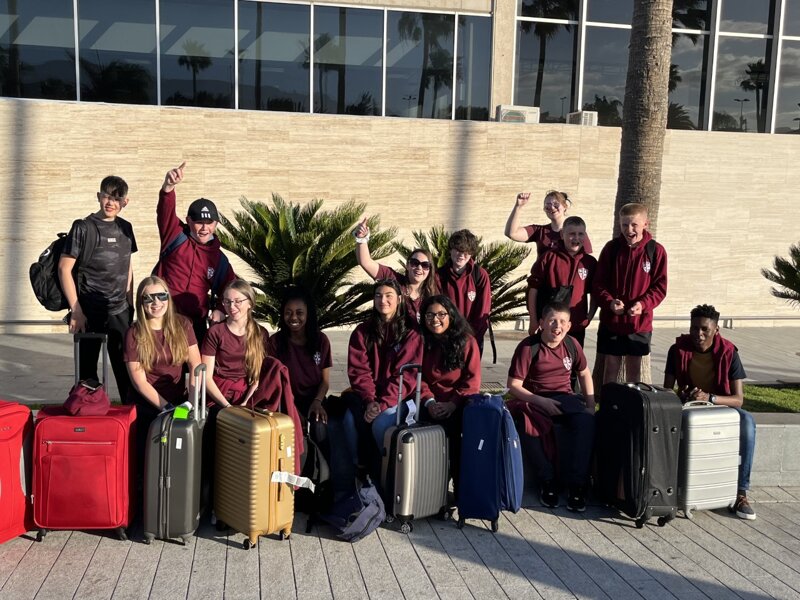 The Spanish exchange has got off to a great start! After a long day travelling students arrived in Tenerife ready to begin their exploration of what it is like to be a student in a Spanish school and also continue refining their Spanish skills. Today we are visiting the CEIP La Jurado school where students will meet staff and students and present what it is like in a British School.
Day 1
Day one was a success! Students received a very warm welcome from the staff and students at CEIP La Jurada school. After a tour of the school students were able to experience a typical PE lesson, play the Tenerife version of boules, experience a typical school lunch and emerge themselves in some Spanish classroom activities.
After the school visit had ended students had some time to reflect upon the day, their highlights and key takeaways noted in their reflection journal.
Afterwards there was even time to take a relaxing stroll down the beach before retiring for the evening to prepare for the next day of new experiences.
Day 2
Students started the day demonstrating their Spanish speaking skills during their presentation to students about a typical day in a British school. They then met with some students and took part in some ice breaker activities that allowed them to continue developing their Spanish.
Later in the morning students were privileged to tour the historic town of Granadilla where they visited the local town hall, History museum and had the opportunity to meet with the Mayor and ask him lots of questions about his role.
After a busy day students were then provided with time to reflect on the activities from day 2 and note down their thoughts and key moments in their journals.
Day 3
Students spent their last day in CEIP La Jurada school taking part in a cultural discussion with students exploring the differences between life in Spanish and English schools. Students from Rayner Stephens took the opportunity to continue developing their Spanish skills by asking their questions in Spanish.
Afterwards students said their goodbyes to the staff and students at CEIP La Jurada school and were given the opportunity to visit the coastal town of El Medano where they had time to explore the town and visit the natural beach.
The day ended with students having some time to reflect and note down their key moments from the days activities.
After long day of travelling students have all arrived back home safely from the Spanish Exchange in Tenerife. Students would like to say a big "Thank You" to the staff and students at CEIP La Jurada school for their hospitality and allowing opportunities for them to participate in many different activities, creating memories that will last a lifetime!
Tags: community enrichment trips