Welcoming Mr M Davies, New Head of School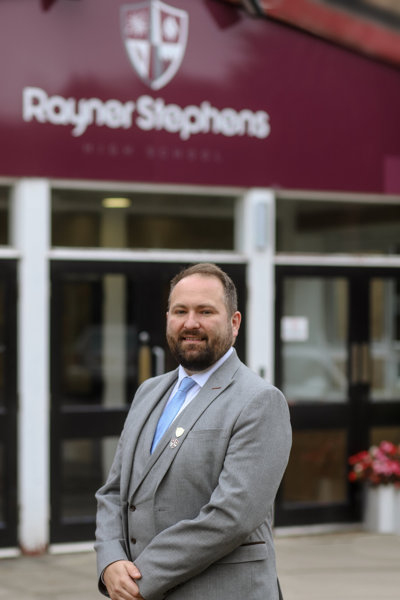 Welcome to Rayner Stephens High School. We are a school at the heart of our community, with our school name honouring one of Dukinfield's heroes. Our school is a warm and caring community for all learners. We celebrate all of our learners' achievements and believe strongly in providing an environment where all young people are able to thrive.

Joseph Rayner Stephens was a local 19th Century reformer and educationalist who fought and championed the rights of the working class in the Dukinfield area. He was a person of ideas, always guided by his deep and strongly held values, which as a school, is something we pride ourselves on.

We are an inclusive 11-16 school, part of the family of schools that make up the Stamford Park Trust. Our core purpose is to support learners of all abilities and backgrounds to develop high aspirations, believe in themselves and achieve their full potential. We expect all learners to work hard and aim high in order to succeed academically and personally. We are proud of what our learners achieve and are aware that we will only be successful if we can fully involve and work with our parents and carers.

We nurture and build ambition for our learners, ensuring we develop curious minds and individual talents. Throughout school life we aim to create opportunities, broaden horizons and introduce challenges to support your child's development.

Our whole school community has much to be proud of. We value our learners as our greatest asset and encourage learner leadership and learner voice so they can be fully engaged in all aspects of the school.

Learners are encouraged to take responsibility for their own learning and conduct at Rayner Stephens. Our expectations regarding behaviour and engagement are clear and consistent to ensure we have an effective and purposeful learning environment.

We recognise that learners have different interests, dreams, abilities and needs and our school's broad and flexible curriculum reflects this. Our staff are committed to ensure that learners achieve their full potential regardless of their starting points. Our curriculum extends way beyond the classroom with our learners having a wide range of opportunities for learning outside the classroom.

We look forward to working together with our learners and families to ensure that they have a happy and successful journey through our school.